Verisign Labs
Talented, Collaborative and Dedicated
The Verisign Labs team brings a tremendous breadth of expertise and talent.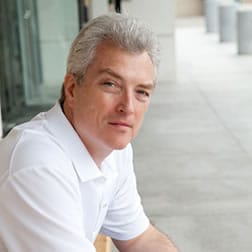 Scott Hollenbeck
Senior Director, Verisign Registry Services Lab
---
Education
Bachelor of Science, Computer Science, Pennsylvania State University, PA
Master of Science, Computer Science, George Mason University, VA
Biography
As Senior Director of Verisign's Registry Services Lab, Scott Hollenbeck manages a team of engineers and researchers focused on exploring innovation opportunities. He has developed expertise in the Domain Name System, applications programming, systems architecture, network engineering, information security, financial analysis and personnel management. He is a former member of the ICANN CEO Expert Working Group on gTLD Directory Services and a document author in the IETF WEIRDS, REGEXT, EPPEXT, and TLS working groups.
Scott has more than 17 years of experience in the industry, and prior to his employment at Verisign, he held management and engineering positions with Xerox Corporation. He is a former chairman of the Xerox desktop software interoperability test working group, a cross-corporate group of engineers and managers responsible for interoperability testing of all Xerox network and desktop software products. Scott is a former officer of the United States Air Force.
He is the author of the Extensible Provisioning Protocol (EPP), a standard protocol for the registration and management of Internet infrastructure data including domain names. Also, he is a co-author of the VeriSign Registry-Registrar Protocol (RRP), a pre-cursor of EPP developed for use in the VeriSign Shared Registration System. More recently, he was a co-author of the Registration Data Access Protocol (RDAP), a standard protocol that was designed to replace the aged WHOIS protocol. He has been a contributor to several industry efforts related to domain names and Internet security, including internationalized domain names, ENUM, public key cryptography, S/MIME, the Extensible Markup Language (XML), and the Transport Layer Security (TLS) protocol. He has served as a member of the Internet Engineering Steering Group of the Internet Engineering Task Force, where he was the responsible area director for several working groups developing application protocol standards.
Scott holds a Bachelor of Science in computer science from the Pennsylvania State University and a Master of Science in computer science complemented by a graduate certificate in software engineering from George Mason University.
Publications