Build Your Career With The Company That Is Defining The Internet
FIND YOUR PASSION.
WHO WE ARE
The Verisign Story
Join the team supporting the mission to enable the world to connect online with reliability and confidence, anytime, anywhere.
It's a Calling…Not Just a Job
At Verisign, we know the best employees think of their career as their life's passion. It's our desire not only to do it right, but also to do it better.
Important Work Needs The Right People
Managing the internet infrastructure for .com and .net is no small feat, and for more than 26 years Verisign has done the job with 100 percent DNS uptime and availability. We know that what we do is important. And, our employees are too. It's our team of talented and dedicated people who make it happen every day, and are recognized for doing so.
We Cultivate Inspiration
Our programs and benefits support our employees' pursuit of their goals and passions. Work here and be inspired through our focus on collaboration, innovation, camaraderie and social responsibility.
OUR BENEFITS
Live Well and Work Well
Verisign is committed to providing resources to manage a healthy work-life balance by offering comprehensive benefits. Our portfolio of choices gives you and your family protection and peace of mind, so you can live well and work well.
Our U.S. benefit offerings currently include:
Health and Wellness
Medical, dental, vision and prescription plans
Wellness program
Employee Assistance Program
Healthcare advocacy
Telemedicine
Onsite fitness center (Reston)
Child Development Support Program
Click here to view the machine-readable files for medical data created and published by UMR on behalf of Verisign.
Financial
Traditional and Roth 401(k) with company match
Health savings accounts
Flexible spending accounts
Employee stock purchase plan
Tuition reimbursement
Adoption assistance
Free and personalized financial coaching from experienced advisors
Protection
Short- and long-term disability
Basic life and AD&D insurance
Optional life insurance for employee, spouse and/or child(ren)
Additional voluntary insurance

Home and auto insurance
Critical illness and accident insurance
Group legal plan
Pet insurance
Time Off
Paid time off (PTO) and holidays
Paid bonding leave
Family/caregiver/sick leave
Additional Benefits
Volunteer hours
Company match for charitable donations

Back-up child and adult care
Employee recognition
Professional development
Casual dress code
Onsite café (Reston)
For information on benefits for locations outside of the U.S., contact benefits@verisign.com.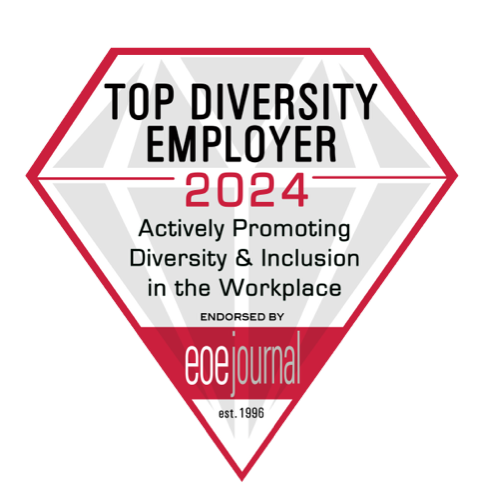 DIVERSITY + INCLUSION
Our Commitment to Diversity, Equity & Inclusion
At Verisign, ensuring a diverse and inclusive environment is fundamentally important to us, and, therefore, we are building a culture where differences in experience, background and opinion are valued and respected. We know that a diverse mix of voices leads to better outcomes for all. More importantly, we recognize that creating an environment, which allows individuals from any background to do their best work, leads to greater individual engagement, and overall company success.
Verisign is an equal opportunity/affirmative action employer. All qualified applicants will receive consideration for employment without regard to their race, color, religion, national origin, sex, sexual orientation, gender identity, age, protected veteran status, disability, or other protected categories under applicable law. If you would like more information about your EEO rights as an applicant under the law, click here.
Supporting Our Veterans
Verisign boasts an impressive community of military and veteran employees. Collectively, the men and women who comprise our veteran and reservist employee base proudly represent service to all the branches of the U.S. Armed Forces. We are a federal government contractor and are committed to taking affirmative steps to promote the employment and advancement of veterans.
Reasonable Accommodations for Those With Disabilities
Verisign is an equal opportunity employer of individuals with disabilities and provides reasonable accommodation(s) for qualified applicants and employees protected under Section 503 of the Rehabilitation Act of 1973, the Vietnam Era Veterans' Readjustment Assistance Act of 1974, the Americans with Disabilities Act (ADA) and other similar state or local laws unless doing so would impose an undue hardship on the Company or as otherwise permitted by law. If you are interested in applying for employment with Verisign and need special assistance or an accommodation to use our website or to apply for a position, send an email with your request to careers@verisign.com. Evaluation of requests for reasonable accommodation will be made on a case-by-case basis.
OPPORTUNITIES
Explore Our Teams
Whether you're just beginning your journey, or looking to make an impact with your expertise, we have an opportunity for you.