USING INTERNET SECURITY TOOLS TO CREATE A STRONGER WEB
The Verisign Labs team creates and tests tools to improve internet security and stability. Explore a set of free DNS tools developed by one of the most trusted names in internet security.
DNSSEC DEBUGGER
The DNSSEC Debugger is a tool for inspecting the "chain of trust" for a particular DNSSEC-enabled domain name. The tool shows a step-by-step DNSSEC validation of a given domain name and highlights any problems found.
View tool
DNSSEC SCOREBOARD
The DNSSEC Scoreboard shows the number of domains secured by DNSSEC in the .com and .net zones.
View tool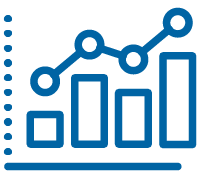 TRANSITIVE TRUST CHECKER
The Transitive Trust Checker produces DNSSEC-based trust-relationship graphs for one or more given DNS zones. The graphs show how the zones are related based on names, network addresses and autonomous system (AS) numbers.
View tool
If you have questions about these tools, please email Verisign Labs.
Other Tools Developed at Verisign Labs
The following tools were previously maintained by Verisign and are now independent.
DNSViz
DNSViz is a tool for visualizing the status of a DNS zone. It was designed as a resource for understanding and troubleshooting deployment of DNSSEC. It provides a visual analysis of the DNSSEC authentication chain for a domain name and its resolution path in the DNS namespace, and it lists configuration errors detected by the tool. Watch this webinar to learn more about DNSViz and how it might be used.
View tool
SECSPIDER
SecSpider is a utility to aid understanding of the size, scope and trends of the global deployment of DNSSEC.
View tool