If you think video is only meant to memorialize baby's first steps or your dog's latest trick, think again. Video is increasingly being used by online retailers as a strategic marketing tool, which makes sense today considering the growing popularity of this medium with consumers.1 In fact, the use of video is growing so fast that Entrepreneur predicts that 80 percent of online content will be video by 2019.2
Savvy businesses know that using online videos can not only help deliver brand awareness and engagement, but can also help with lead generation.3 A recent study reported that companies saw a 49 percent increase in revenue year-over-year over those that did not use video.4
Video can allow you to showcase your skills or feature your products in an engaging and dynamic manner. Video ideas for small business owners might include:
A pool cleaning company showing how to measure chemical levels
A bike shop with new tips for good bike care and maintenance
An accounting firm providing helpful tax advice
A local boutique featuring an upcoming clothing line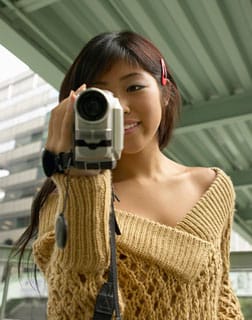 4 times as many consumers would rather watch a video about a product than read about it.5
If you already have a domain name, like a .com or .net, consider getting a complementary .tv domain name to house your video content. Some companies have used a .tv domain name to establish a video-centric channel for their video content, while others register and host their video content on their .tv domain extension and synch it back to their .com home page.
As video continues to become more of an essential content form on the internet, incorporating video in your company's strategic marketing plan in today's world may make sound business sense.
1 Contently. The Explosive Growth of Online Video, in 5 Charts. Accessed November 10, 2016.
2 Entrepreneur. By 2019 Video Marketing Will Be Everything. You've Got to Get in on the Trend. Accessed October 16, 2016.
3 Emarketer. Mobile Video Ads Drive Brand Awareness, Engagement. Accessed November 10, 2016.
4,5 Adelie Studios. The Top 16 Video Marketing Stats for 2016. Accessed October 16, 2016.