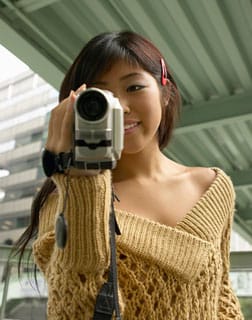 Video is a way to give your customers advice, to demonstrate a product or service that you offer, or as a low-cost advertisement. Content Marketing reported that customers who see a product or service in an online video are 46 per cent more likely to seek out more information and 36 per cent of online customers trust what they learn from video ads.
Also in the last year there has been an uptick of online retailers implementing video on their sites for better customer experiences. Forty-eight of the top 50 online retailers feature videos on their websites and 46 per cent of the top 50 online retailers have more than 1,000 videos on their site. Leading video company SundaySky reports that while on-site videos deliver brand awareness and engagement, what is most appealing to marketing executives is the performance and financial impact they are generating, specifically conversions and revenue.
Video allows you to show your skills or feature your products in an engaging and dynamic manner. Some video ideas for small business owners might include:
A pool cleaning company posts a video showing how to measure chemical levels
A bike shop posts videos each week with a new tip for good bike care and maintenance
Shops can use video to punch up their social media page when announcing sales events
A local boutique features video with a virtual tours of new clothing lines
A comedy club films a short funny ad and posts online to go viral
If your business is centered on video or you wish to showcase your products and services with video, another idea to consider is creating a complementary domain name to house your video content. Some companies, like those highlighted at this link, have used the .tv domain name to establish a video-centric channel for their video content, other register and host their video content at the .tv extension, while syncing that to their .com home page.
Whichever option you choose, video is becoming more and more of an essential content form on the Internet. As people move to smart phones, tablets and smart TVs for their Internet content, the value of information communicated in videos is growing quickly.