Structuring content on your website to be relevant and easy to consume will impact not only your customers' understanding of who you are and how they can interact with your business, but also how your company will rank on search engines like Google and Bing.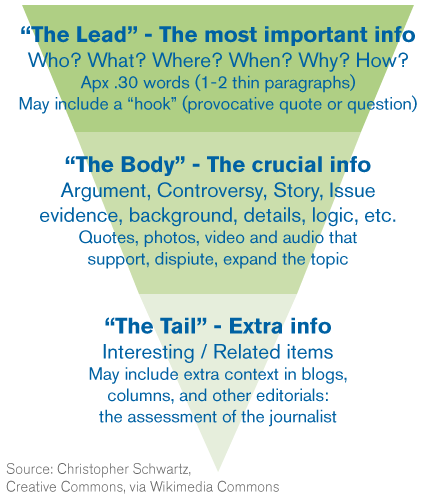 One way for your business to succeed online is to have a website that achieves high search engine rankings to attract visitors. Your website needs to convert those visitors into customers by convincing them that they should do business with you.
To achieve these two objectives your content should:
Be compelling and actionable
Express who you are
Describe what you offer
Explain why visitors should buy from you
Be keyword and metadata rich
Provide links for building credibility
Below are five tips to start you on the right path for creating content for your website.
Get to the Point
You should not assume that a visitor will consume all the content on your page. A lot of people don't even make it halfway through. That is why you need to put your most important information at the top and prioritize your content from there. This concept is called the inverted pyramid.
Actionable Language
Tell your visitors what you want them to do and use strong call to actions such as "Download this form." or "Learn more about this product." Actionable content is good content and it makes you almost immediately more relevant.
Shorter Sentences
When writing for the Web, keep it short and simple. The Internet is no place for picturesque prose. That means you need to pare down your sentences to the bare essentials. Use only what you need to get the point across.
Keywords for Search Engine Optimization
You want to make sure when people search a keyword using a search engine like Google or Bing that they find your website. You don't necessarily want to choose the keywords with the highest amount of searches. A better tactic if you are just starting out is to choose long-tail keywords (phrases like "How to chop an onion"). They are generally less competitive and you have an opportunity to rank higher in the search results.
Skimmable Copy
When it makes sense, create lists instead of a paragraph. When people read content on the Internet, whether on a lap top or mobile phone, they are skimming for important information. Each of your list items should not exceed seven words, or you will lose your readers. This is an old trick used by designers of outdoor advertisements, like billboards.
Google and Bing are the respective trademarks of Google, Inc. and Microsoft Corporation, respectively.