If you had to choose between one of the following to cross the Atlantic Ocean, what would you pick? A rowboat or a 30-foot sailing yacht?
Safe to assume you would pick the 30-foot yacht because it's proven capable, safer, and more reliable.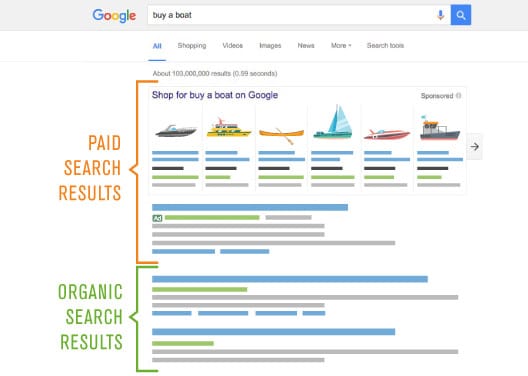 That's essentially how websites are perceived by search engines like Google and Bing. For every web search query that's entered, search engines determine in mere nanoseconds what sites are the most relative, trustworthy, and authoritative to those specific keywords - then serves up a natural or "organic" rankings list (separate from paid search ads) to the inquiring web user.
If you're like most internet users, you're only clicking on the first few links of this search results list - analytics show traffic drops off by approximately 95 percent between the first and second pages.1 Definitely not a good proposition for a company whose website is ranked on the second or subsequent pages.
To rank higher on a results page, it's imperative to employ Search Engine Optimization (SEO) to your site. SEO is a series of strategies and techniques designed to achieve higher placement. In essence, the methods of SEO makes a website more "attractive" to search engines, with the goal of ranking higher on a search engine results page.
Still not convinced of the powers of SEO?
Here are four sound reasons why SEO is crucial to your business' overall online success:
Growing Market
Online consumers use search first to look for products, services and other needs. Google alone processes at least two trillion search queries a year, so businesses utilizing SEO have access to this rapidly expanding market of buyers.2
More Qualified Leads
A consumer using search is actively looking for something versus someone watching a television commercial or receiving a glossy brochure in the mail. This translates to a more solid business lead because online consumers using search have intent. So if they land on your site, it's likely because they're looking for something you sell.
Great Branding
Ranking high on a consistent basis promotes a business' trustworthiness and credibility, ultimately strengthening a company's brand and reputation.
Higher Returns
The returns from SEO are significantly much better than other forms of advertising and direct marketing. While paid search advertising has its benefits, you only generate traffic when you pay. SEO, when done correctly, provides residual traffic over time.
Bottom line, you can build a great website but it's going to be invisible to search engines unless you optimize it. With more than 3 billion people using the internet around the world, that's a lot of potential buyers that you're never going to reach unless you're utilizing SEO.3
Read How to Optimize Your Small Business Website to get the latest SEO tips.
1 Advanced Web Ranking. Google Organic CTR Study 2014. Accessed October 29, 2016
2 Search Engine Land. Google now handles at least 2 trillion searches per year. Accessed October 29, 2016
3 Internet Live Stats. Internet Users. Accessed October 29, 2016