Let's calculate some easy math given the following facts:
There are more mobile connections than people on this planet1,2
Consumers prefer using their mobile devices over desktops3
Worldwide shipments of PCs continue to decline4
Your business's website should be mobile-friendly today to stay competitive tomorrow
Here are the facts to support this equation:
Mobile and tablet internet usage exceeded desktop internet usage worldwide for the first time in October, 2016.5
With over 7 billion people on this planet today, it's projected that the number of mobile phone users will surpass 5 billion by 2019.6
More searches take place on mobile devices than on computers.7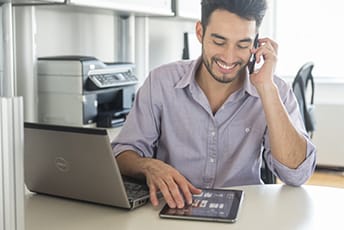 So if your business's website is not mobile-friendly right now, you should consider changing your approach quickly. Because simply put, consumers are expecting it.
There are several ways to make your site mobile-friendly, but one of the best options can be adopting a responsive web design, which can enable a website to seamlessly adjust on any screen, like a desktop, tablet or smartphone. This can create a better mobile experience for the consumer – so there's no zooming, pinching or scrolling!
And employing a responsive web design approach can provide you with the following benefits:
More sales: Mobile sites can help lead to more mobile purchases. In fact, companies incorporating responsive design typically see increased conversion rates than those that don't.8
Brand reinforcement: Consumers want an easy, seamless experience on your site. A frustrating mobile experience can create a negative image of you and your company.9
Cost savings: Responsive web design can eliminate additional time and money managing a website and a mobile site. 10
Good for SEO: Search engine giants Google and Bing favor responsive sites, which can help with higher ranking on search result pages.11
The Bigger Picture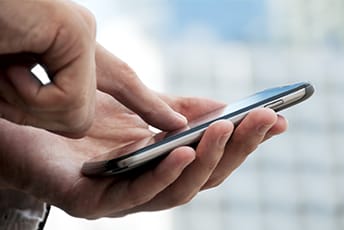 Ultimately, it's not about the devices. To truly connect with consumers today, it's essential for you to create the most optimal experience for your audience. And utilizing a responsive web design can help you achieve an optimal experience by enforcing and promoting this "user-centric" approach because it can provide a consistent experience consumers want from any device that they choose to use.
Remember: people are not always near a computer, but many people have a mobile device with them at all times. And when consumers can access your website on their smartphone as easily as they can on a laptop, it can allow them greater access to your business. And that's always the right answer.
---
1 GSMA Intelligence. Definitive data and analysis for the mobile industry. Access October 17, 2016
2 Worldometers. Current World Population. Access October 17, 2016
3 DIGIDAY. How mobile is overtaking desktop for global media consumption, in 5 charts. Accessed November 10, 2016
4 Gartner. Gartner Says Worldwide PC Shipments Declined 5.7 Percent in Third Quarter of 2016. Accessed October 17, 2016
5 StatCounter Global Stats. Mobile and tablet internet usage exceeds desktop for first time worldwide. Accessed November 10, 2016
6 Statista. Number of smartphone users worldwide from 2014 to 2019 (in millions). Accessed October 17, 2016
7 DeviceAtlas. 16 mobile market statistics you should know in 2016. Accessed October 17, 2016
8 SmallBizDaily. Main Benefits of Investing in a Responsive Web Design. Accessed November 10, 2016
9 Jazzboo. The Importance of Good Design. Accessed November 21, 2016
10 Business.com. One Size Fits All: How Responsive Web Design Helps You Get More Conversions. Accessed November 10, 2016
11 Business.com. Mobilegeddon or Not, You Really Need a Mobile Website. Accessed October 17, 2016