The world is engaging more and more in social media, and that includes your customers and, more importantly, your potential customers. How can you engage in social media marketing to support your business goals and raise awareness about your brand and products or services?

1. Start with Social, but Plan Bigger
Social media can be the simplest way to establish an online presence, for the following reasons:
Cost-effectiveness: a social media page can be developed for little or no cost.
Simplicity and speed: easy-to-use interfaces means your presence can be up and running in minutes.
Interactivity: these networks are inherently social in nature and usually have a built-in base of members, great for engaging prospective customers.
Ideally, your business would have a website and use your social media channels as marketing tools to amplify your company brand, message and content in order to drive visitors to your main website. But if a website isn't in your strategy or budget (despite the fact that you can actually create a great website today for free), your business can still benefit from registering a unique, descriptive domain name. Two primary ways to use a domain (or multiple domains) in support of a social media presence are:
As a branded web address that points to your social presence.
As a branded email address to reinforce your social presence while giving your business added credibility.
2. Content is the Key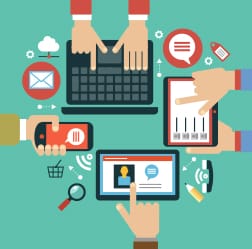 The best way to get your customers' attention and drive user interaction is to deliver frequent, high-quality and compelling content that targets your audience. Here are a few tips:
Consider your audience: know more than just who they are, know what they know, and more importantly, what they don't. This can help you proactively fill those gaps.
Have a plan: know what you want your content to do for your business. Are you looking for leads or brand awareness? Your plan will help you see the path ahead, and more importantly, allow you to measure success or failure.
Play to your passions: your content is bound to be more compelling and attractive if you have a deep and clear interest in the subject matter.
3. Consider Spending a Little to Get in Front of New Customers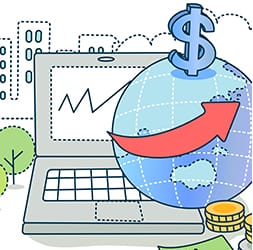 Try paid advertising on social networks where your customers and prospects spend time. Many social platforms have budget-friendly options. Here are some options:
Twitter1 ads can work with any budget, and can easily be set up with just a credit card.
Facebook2 and LinkedIn3 allow you to segment advertising targets by age, gender, location and interests, among others.
YouTube4 ads can help drive more views to your videos; just set your budget.
1 Twitter, Inc., accessed Nov. 3, 2016.
2 Facebook, accessed Nov. 3, 2016.
3 LinkedIn Corporation, accessed Nov. 3, 2016.
4 YouTube, accessed Nov. 3, 2016.

Verisign and SCORE support the success of small businesses by providing business mentorship through free webinars and tools.