As a small business owner, do you know the biggest reason why a customer may take their business elsewhere? If you think it's lower prices or higher quality products, guess again.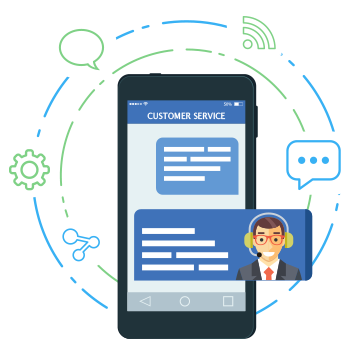 This is why customer service needs to be a priority for any business, big or small. But a recent report from Northridge Group confirms that many businesses, including the big names, are struggling to provide a consistent, seamless customer service experience between the different channels, and especially with social media.1
The main issues with "social customer service" are:
Understanding the mindset or expectations of the customer who's using social to post/comment on an issue
Learning how to appropriately address negative feedback or criticism in a public arena
Once you know what motivates consumers to use social media, you're one step closer to creating a more cohesive, first-rate customer service experience that will set you apart from the rest. Here's a four-step strategy you can put into action fairly quickly to help handle these customer complaints (and to hopefully avoid a future social media crisis!).
You'll need to:
1. Listen Actively – it really starts with this preemptive step. To be effectively engaged within your online community, you (or someone on your team) need to dedicate a certain amount of time every day to monitor what's being posted/shared about your business. And if you have the bandwidth to check-in more frequently, even better.
To help manage all your social media platforms, consider using web tools like Hootsuite and SproutSocial that will alert you when someone posts on your Facebook, Instagram, Twitter, or blog. These tools will also notify you when your company is mentioned on sites like Yelp, Trip Advisor or Google+Local.

2. Respond quickly – In general, complaints should be resolved fast, but when a customer complains on social media, it needs to be addressed almost immediately. According to the same study by Northridge Group, more than 40 percent of consumers expect a resolution within 60 minutes.1 And consumers are almost two times more likely to recommend a brand that provides them with a quick but ineffective response than a brand that gives them a slow yet effective solution to their problem.2
Why such dramatic percentages? People expect immediacy with social media and turn to it as a last resort when they can't reach a resolution through other channels. So by the time a customer tweets his complaint, he's even more frustrated. So tackle it immediately.

3. Apologize sincerely – Even if there was a valid reason on your end, don't try to defend or deny it. And put away the formal speak. A personalized apology starting with "I'm really sorry" goes a long way, followed by:
you'll look into the matter further/we've already taken steps to ensure it won't happen again
your company's commitment to its customers
an offer to make things right
It works because customers feel heard which makes them feel appreciated. And when customers feel appreciated, it strengthens their loyalty to you.

4. Don't remove it (but know when to move it offline) – there's no need to delete a negative post. Showing the world how you quickly solve issues promotes how great your company is. Consumers will find you honest and trustworthy, and even more credible in their eyes.
However, if the customer can't be placated with your apology, suggest moving the conversation offline (this needs to be handled in an organic way that doesn't make you look like you're hiding something). And in some instances, don't respond to a poster whose comment is just way off and offensive as responding only draws more attention to it.
Ultimately, look at this "new" social media strategy as an opportunity to connect and add value with your customers on a new level while also gaining valuable feedback. Whomever you choose to handle your social media channel needs to be highly skilled in customer service; someone who knows how to converse with customers in an authentic manner. In the end, you'll be attracting new customers and cultivating loyalty amongst your existing ones.
1 The Northridge Group, Inc. "State of Customer Service Experience 2016." Accessed Oct. 27, 2016
2 Groove. "The Complete Guide to Using Social Media for Customer Support." Accessed Oct. 27, 2016.