Verisign Worldwide Headquarters
12061 Bluemont Way
Reston, VA 20190
(703) 948-3200
Reston, Virginia is a suburb of Washington, D.C. situated in the western part of Fairfax County. More than 800 employees work in this gold LEED-certified building conveniently located in Reston Town Center.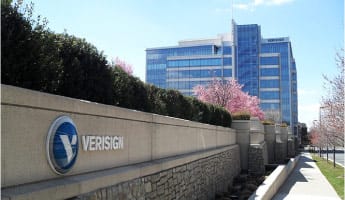 Switzerland
Route du Petit Moncor 1E
2nd Floor
Villars sur Glane
1752
Switzerland
+41 (0) 26 408 7778
India
807-A, Park Centra
Sector-30 NH-8
Gurgaon, Haryana
Phone: +91 12 44292600
United Kingdom
MWB Business Exchange
One Kingdom Street
Paddington
London W2 6BD
United Kingdom
Phone: +44 20 3207 9085
Australia
5 Queens Road
Level 10
Melbourne, VIC, 3004
Phone: +61 3 9926 6700
China
Suite 1511 and Suite 1518, 15/F
Office Building A, Parkview Green
9 Dongdaqiao Road
Chaoyang District, Beijing, 100020, PRC
Phone: +86 (10) 5730 6081
Verisign Headquarters: Community Resources
Northern Virginia and its surrounding areas offer a culture rich in diversity, nationally-recognized schools and a wide variety of housing options to meet your and your family's lifestyle.