Once you have registered your company's domain name, there are a few ways you can use it to build your business's online presence. Two popular options are 1) redirect or forward your domain name to a social media business page that acts as a temporary stand-in for your website or 2) to build and launch a business website.
Let's explore each method:
Social Media
If you're looking for an option that's quick to implement and comes with immediate benefits, one simple technique is to register your own web address via a domain name, and redirect it to the social media page of your choosing. This method (also referred to as domain forwarding) enables you to have a business-branded web address that offers credibility and ease when promoting your online presence – much better than saying "follow me on Facebook."
There are many multimedia platforms to leverage when using social media as your online presence, such as Facebook, LinkedIn, Twitter, YouTube, Google+, Instagram and Pinterest.
Pros:
Quick and free – simple to set up and most platforms don't charge a fee.
Low-commitment – you can easily delete your page or switch to a new provider at any time.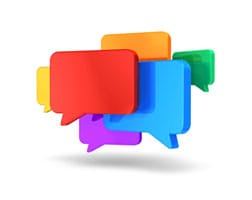 Globally, the number of businesses that redirect their traffic to their respective Facebook site increase 25% year-over-year.1
Engagement – access to more than a billion potential consumers, which allows you to easily communicate and helps build relationships.
Branding – customers will learn more about the business's values, mission and purpose, which will nurture loyalty and build the company's brand.
Cons:
Lack of control/ownership – the social media provider's terms and conditions control what content and promotions can be presented. Also consider what happens if the provider shuts the site down and if this is your only online presence.
Constrained creativity – social sites offer limited design layouts.
Open forum – these sites give consumers an open forum to voice their feedback and complaints, which necessitates more monitoring of the site.
Limited reporting/tools - the level of reporting and features available are often less than with a website.
It may be best to simply start with 1 or 2 platforms that reach your target audience. Remember to try to reserve accounts or claim your branded profiles on all sites/platforms you plan to leverage to avoid confusion. And if you do engage on more than one social media site, try a management tool like Hootsuite that will save you time updating all your social media accounts.
Website
77 per cent2 of small businesses said websites are the most effective online marketing tool for creating awareness and strengthening customer relationships, more than any other online marketing tool.
With a bevy of options, both paid and free, for creating a website for your business, it is easier than ever to build a high-quality website to showcase your products and services, and to establish your brand in a form you can control.
Pros:
Cost effective - there are a variety of options available. Free websites may be a good starting place as some are created for the non-technical user with easy-to-use templates.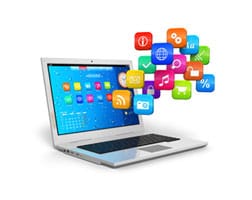 Credibility – 84% of U.S. consumers believe a business with a website is more credible than one with only a social media page.3
Full control/ownership – even if you decide against a custom build and use a website-builder tool with templates, today's tools offer many customisation features so you can easily personalise your website.4
Greater branding and promotional flexibility – a website not only has more space to market your business; but more ways to market as well, such as videos, customers reviews, blogs, special promotional offers, etc.
Reduction in overhead costs – most consumers prefer to get a business's information online and that could reduce your administrative and operational expenses.
Around the clock availability - market products and services 24 hours a day, 7 days a week, anywhere in the world.
Cons:
Maintenance - depending on the size of the site, keeping content up-to-date will require some time and effort.
Increased complexity - sites with more sophisticated designs and functionality will most likely require more investment in time and money.
Download our checklist that will help guide you through building a website.
1 Verisign. Between the Dots
2 Constant Contact. Customer Engagement a Major Focus of Small Business Technology According to Constant Contact Technology Pulse Survey
3 Verisign. 5 Reasons Every Small Business Needs a Website
4 TechCrunch. With Over 15M Site Built, Weebly Launches New Planner And Mobile Editor, Brings Website Creation Service To Android