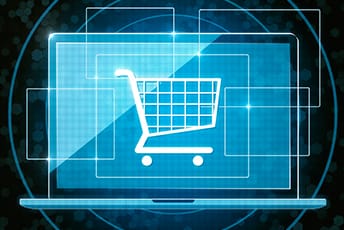 The idea of selling products online merits thoughtful consideration, especially in today's world where ecommerce sales continue to grow year after year. Recent figures from comScore support this – the second quarter of 2013 marked the fifteenth consecutive quarter of positive year-over-year growth in U.S. retail e-commerce sales, and the eleventh consecutive quarter of double-digit growth.
But setting up an ecommerce site is very similar to a brick and mortar business. There are numerous aspects of building and running an online store so you'll need to take your time and create a solid business plan first. Once you've determine the products, pricing, target audience, store policies, and the legalese, focus on the following key action items:
Select a Domain Name and How to Host
A strong memorable domain name for your ecommerce store is essential so choose accordingly (for tips read How to Choose a Domain Name). Registering a domain name will allow your visitors to find your site without issues and allow you to maintain control of your brand. A domain name gives you the flexibility to change between ecommerce solutions as your business grows, while still allowing your customers to still be able to find you without interruption. You will also need to determine whether to manage your own web hosting or have your platform provider host it on your behalf. There are pros and cons with both options so consider the long-term goals of your store and decide accordingly.
Set Up an Internet Merchant Account
Online customers prefer to pay by credit card so you will need to have a merchant account to take and process money to your business account. Contact your bank to get more information on how to establish one – for security reasons, they will probably require you to work with a payment service provider (PSP) or "payment gateway." Additionally, the majority of shoppers also prefer multiple payment options, so consider an interface with a third party payment service like PayPal.
Choose the Right eCommerce Solution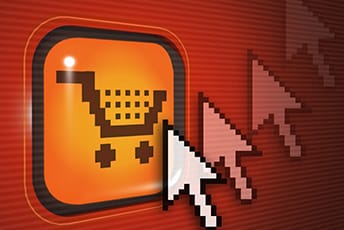 Are you just selling one product or needing a more complex shopping cart? There are many online solutions that are available based on your business' needs, like:
Simple: You're selling a single product and only need a way for customers to pay, like a Paypal "Buy Now" button.
Hosted: If you need more than a payment button but don't have the time, money, or bandwidth to install e-commerce software, you can utilize a hosted solution. A hosted provider like Shopify or Bigcommerce allows you to create a store and host it on their server for a monthly fee. Or you can create an online presence using an existing online marketplace like Etsy, Amazon, or eBay. Going with this solution there are many positives such as set-up is quick and easy, there's a built-in base of potential customers, and it's a great way to get started with a low-commitment, low-budget online presence.
Do it Yourself: For a robust shopping cart, there are many commercial (off-the-shelf that require a license) and open source products, like Opencart, to choose. When assessing any product though, determine if it supports the particular payment methods you want, what type of support and help is available to you after purchase, and how frequently the product is upgraded.
Write Product Descriptions and Use High Resolution Images
Your customer isn't in a physical store to look, touch or try on your product, you'll need to write descriptive copy of every item you're selling. It's important to provide as much information as you can, like weights and measurements, along with top quality, high resolution images.
Get an SSL Certificate
Online customers want security when it comes to websites. A SSL (Secure Socket Layer) certificate provides that by encrypting parts of your website that collect personal information, like credit card and customer form details. Having an SSL certificate not only keeps your customers safe from hackers and identity thieves, but also gives your business credibility.
These are just a few of the important things you'll need to accomplish to set up your site. So carefully research all of your options to be sure it meets the goals of your business plan. Ultimately, the more time you have to prepare before you begin, the faster you'll succeed once you go online.