Increase your email list with an email marketing campaign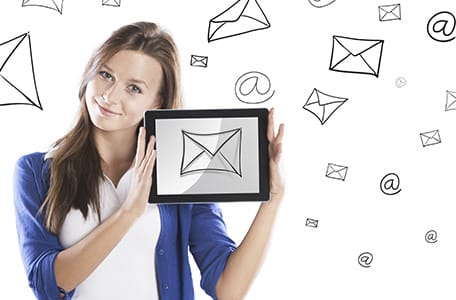 There are a whole range of digital marketing activities that a small business can utilise to help grow its audience online. One of the lower-cost methods of doing this is by email marketing, despite this method having been around for quite some time. Even with social media more widely used, email marketing can still be hugely effective.
An effective email marketing campaign is more than sending weekly or monthly newsletters. By creating engaging marketing campaigns, you can gain more email contacts, more website visits and repeated visitors all at once, strengthening your relationship with existing customers and attracting new potential customers.
Maintaining and growing your email contacts is vital. Here are some top tips for getting the right email addresses and forging new relationships with audiences – without having to spend huge amounts of money.
Using the website
If your emails aren't making it to the right audience, your campaign effectiveness will suffer. And many small businesses don't have the finances to buy mailing lists to suit their marketing activities. The onus is on the business to create a targeted mailing list that will foster engagement with their content.
A company website is a fantastic way of adding to your mailing list –ask your visitors/customers to sign up for updates regarding your products / services. Alternatively if your audience is still growing, then offer potential subscribers something in return, such as 10% off their next purchase, in exchange for their email address, which could be invaluable to you in the long-term.
Make the social link
Your website, social media, email marketing, and even offline promotion, should be linked to support each effort. Posting content on social websites can be great for awareness, but adding a call-to-action (CTA) at the end of your post – getting users to exchange their details for something in return - results in engagement. If you're still looking to expand your audience, you can pay to promote your posts across Twitter, Facebook and Google+.
Another example is YouTube, where videos pull viewers in with engaging content and then offer something at the end of the video that encourages viewers to exchange their email address in return – taking the relationship beyond just a one-off engagement and adding contacts to your email list. This additional engagement might simply be more information on the same topic, a competition or a promotional code – whatever works with the video.
The marketing mix
Using digital marketing activities doesn't mean that slightly more traditional methods lose their importance. Events are opportunities where you can collect email addresses from visitors at your booth. Print adverts that feature QR codes which users can scan – also can supplement your email list.
Paid search is another method to consider depending on your company's budget. By launching paid adverts, Google AdWords is an example; you can direct users to a page on your website where they can opt-in with their email.
Find a friend
Are you the only business out there that's looking to find new customers, make offers and create loyalty with them? Of course not! There are plenty of other businesses with this goal that will share a target market with you, but that can offer services that compliment rather than compete with your own.
Co-branded marketing campaigns with other businesses could include special offers or marketing collateral and you could ask them to promote the offer to their audience too. You could also offer a webinar – making the partnership more visual and allowing you to collect email addresses at registration if users agree to share their details.
Email marketing can be a hugely effective way of communicating to existing and new customers. To start, make sure you know your target market and go from there.