How to get a domain name (web address) in three easy steps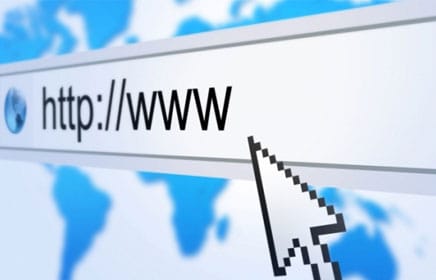 Your website's domain name is the shop-front, the high-street address where customers can find you. Furthermore, a domain is important for positioning your website in search engines. In contrast to a building, however, you cannot buy a domain outright, but only register it on a long-term basis. In order to do that you have to register your chosen domain trough a domain name registrar. A domain name registrar is an organization or commercial entity that manages the reservation of Internet domain names.
Registering a domain may well be a little less complicated than renting a shop, but you should give some careful consideration to the domain name selection and other requirements beforehand. Follow these three easy steps on how to get a domain name:
Step 1: Choose a domain name
Your domain name will be your virtual address, and your online identity, on the Web. Even if some solutions offer to host your site on their domain, we recommend putting your website on your own domain name to have a consistent, branded web address for your customers to remember and to use in your marketing.
It all starts with choosing the right domain name, or web address, to represent your business on the Web and here are some tips to keep in mind as you decide
Use an appropriate domain name extension (e.g. .com): Domain extensions such as .com or .net can have specific uses, so make sure to choose one that is aligned with your business, is credible, and is widely recognized. Customers should feel safe visiting your website, so a domain name extension your customers know and trust is important.
Use keywords: Your domain name doesn't have to be your business name. Try using keywords that describe your business, services, or brand to help improve search engine ranking. For example, if you're based in London and want to be known for your unsurpassed quality, bestbakeryinlondon.com is an alternative option.
Be memorable: There are millions of registered domain names. Make yours catchy and memorable.
In addition, you have to pay attention to a few legal and administrative provisions when you want to register a domain.
Step 2: Check the domain name availability
The best domain name is no use at all, however, if it is already registered. Once you have chosen one or two good ideas for the domain name, you now have to check whether they are still available. This can be done via the Verisign name suggestion tool most registrars or web hosts, using simple online tools that provide you with information immediately.
If the desired domain is not available, you must think of an alternative. You can use Verisign's name suggestion tool to help you come up with new domain names. Verisign Name Suggestion Service is a complementary service that uses advanced linguistic technology to sort and split each query into likely terms. Language trends and current topics collected from analysis of thousands of websites are factored into the creative suggestion results.
However it may be worth getting in touch with the organization or person which/who has registered the domain name you wanted to register – especially when there is no website being operated under the desired domain name – to check whether the domain can be released. You can generally find out who has registered the domain name by a so-called 'Whois' request via a domain dealer or registrar.
Step 3: Register the domain name
You can now register a domain name via the registrar, web host or domain dealer of your choice. You generally have to give the registrar your contact address and account details; you then no longer have to concern yourself with the details of the registration.
After just a few hours you can gain access to your registered domain. Most domains are initially registered for one year; the contract is usually extended automatically.
Good to know: If you are not quite ready to launch your website yet, you can still put your domain name to good use. Two main ways in which you can use your domain name are:
Redirect your domain name towards another website. This could be your blog, for example, or your company's page on a social network (Facebook, LinkedIn, etc.). As a general rule, it is easy to set up a redirection with your registrar, such as GoDaddy, 123-reg or 1and1, for example.
Create email addresses containing your domain name, which will give you added credibility compared to using free email addresses.