How to set up a professional email address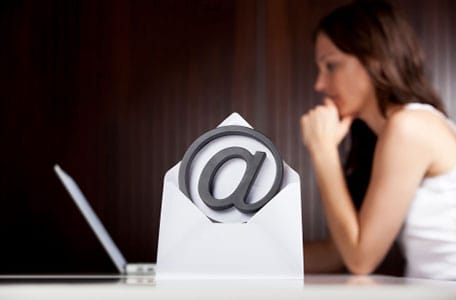 A professional email address linked to your domain name (web address) says a lot more than you may think. Just ask your friends and family what they think – would they prefer to deal with a businessperson with a generic address, such as Hotmail or Gmail, or with a professional email address: first name.surname@company.com for example.
Opinions are virtually always the same – a professional address is reassuring and instils confidence. It creates a more professional image for your business and will almost always have more of an impact on your customers than a generic address. There's no need to wait – creating a professional email address is quick and straightforward.
What is a professional email address?
Once you have chosen and registered your domain name, you can decide on your professional email address. This is linked to your domain name, in other words, the part after the @ will be exactly the same as the domain name that you have chosen for your company (e.g. contact@yourcompany.com).
Professional email addresses bring many benefits as an integral part of your corporate identity and your brand. They are a true sign of credibility and, more importantly, allow your customers – both existing and potential – to immediately know who is writing to them.
How can you manage your professional email box?
As soon as you register your domain name, you can get an email address linked to the same address, hosted by the domain name provider. There are usually three ways of managing your new business email address so that it is ready and easy to use:
It is always possible to connect your domain name email address to an existing email account you may have, such as Gmail. Simple for beginners to install and use, this is a good alternative to solutions offered by hosting providers. However, your business and private emails end up in the same mailbox – unless you choose the paid version of Gmail (part of Google Apps for Work), which comes with increased functionalities, but also increased cost.
There are other free email applications, such as Mozilla's Thunderbird. Like Mozilla's Firefox, Thunderbird offers several plugins that can be very useful if you need a few additional functionalities. However, bear in mind that customer service for free applications may not be as efficient as that offered by some fee-charging providers.
If you need a more comprehensive email solution with more sophisticated tools, providers that charge a fee can answer these needs. The most well-known of these include Outlook, Google Apps for Work and Workmail. These providers offer an increased amount of functionality. Integrated calendars, task and contact managers are relevant examples.
Your registrar and/or hosting service provider usually offers professional email service at a low cost. Like registering a domain, this is simple to set up, and this practical solution is more comprehensive than the services offered by a free provider. For a modest price, this solution also usually comprises customer support if the system goes down. However, the interface may have limited features or functionalities compared to specialist tools such as Office 365. You also need to bear in mind that there could be additional costs if you need substantial storage space from your messaging service.
These three options provide a range of different pros and cons. Before coming to a decision, it is important to keep in mind functionality, as well as your company's future. You'll want to ask yourself a few questions before starting out: do you want to separate business emails from private messages? How many different addresses do you need for your employees? And, perhaps most importantly, what is your budget for the messaging system?