Why should you choose a professional branded email address?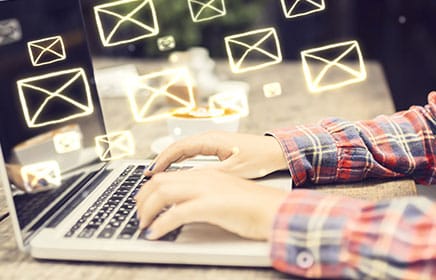 Anyone can get an email address for free in no more than a few clicks. While this may be perfectly suitable for your everyday internet user, many businesses choose to use a professional branded email address e.g. john.smith@yournewbusinessname.com. But should small companies bother paying for the registration of a domain name in order to use a professional branded email address when they can just use one for free?
Let's look at some common questions asked about professional branded email addresses in order to help you make the right choice for your business.
Q. Seems like a lot of effort to go to for something so trivial, do my customers really care what type of email address I use?
A. In one word, yes. We believe that having a professional branded email address can help a business of any size establish a professional image and credibility. Our online survey* from June 2016 demonstrates that 2 out of 3 respondents agreed that a company-branded email address is more credible than a free email address.1 The risk of using a free email address maybe that your business may come across as unprofessional.
Q. Is it better to have just one email address or several?
A. Depending on your type of business you may want to have multiple email addresses for each segment of your business. Having a set of different email addresses such as billing@yournewbusinessname.com, info@yournewbusinessname.com or support@yournewbusinessname.com can help streamline incoming requests and give customers confidence that they have contacted the correct business channel to answer their questions.
Q. Setting up a professional branded email address sounds expensive, is it worth the investment of time and money?
A. Establishing a professional branded email address can be simple and done with minimal effort using a registrar or web hosting company. In some cases it may cost only the price of the domain name registration. Here is a guide to help you find out more about how to get your professional branded email address right from the start.
1 Verisign conducted an online survey in the UK in June 2016 with a sample size of more than 1030 respondents.