Internet cookies: A to Z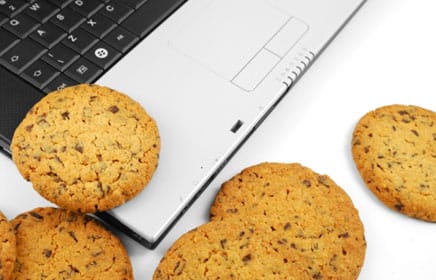 Everyone has heard of cookies, but many businesses may not be fully aware of what they are and whether they are useful. Here, we introduce cookies, their types and uses and what control businesses can have over them.
What are cookies?
A cookie is a small text file embedded in your hard drive by the server of the site you are visiting. This file is neither a virus nor spyware.
What are they used for?
Cookies are used to make surfing on the web easier for you. What actually happens when you visit an online shop for the first time is that the site's server sends a file to your computer, which installs itself automatically on the disk. Thanks to this cookie, you will be recognised the next time you visit the same site and you won't have to enter all your details again. In a nutshell, cookies customise your web experience.
Advantages and disadvantages of cookies
There are several types of cookies – those we love and those we hate!
We love those that make our lives easier because they simplify surfing and let us be recognised more quickly on different sites.
We hate those that are used mainly for sales or marketing purposes. Indeed, certain cookies analyse our purchasing and/or surfing behaviour, and the resulting data can then be analysed and used as a marketing tool, which some customers may find intrusive.
Types of cookies
There are three different types of cookies:
Session cookies: these are mainly used by online shops and allow you to keep items in your basket when shopping online. These cookies expire when the browser is closed
Permanent cookies: these remain in operation, even when you have closed the browser. They remember your login details and password so you don't have to type them in every time you use the site. The law concerning permanent cookies stipulates that they need to be deleted after a period of six months
Third-party cookies: these are installed by third parties with the aim of collecting certain information to carry out various research into behaviour, demographics etc. 
Can cookies be erased or blocked?
You will be invaded by Internet cookies whichever browser you use (Internet Explorer, Chrome, Mozilla etc.). Although there are no miracle solutions, you can consider the following:
Erase cookies: all you need to do is find the folder/file where cookies are stored on your computer and delete them. If you do this by hand, you need to remember to do it regularly.
Block cookies: if you want to block website's cookies, you need to configure your browser to categorically refuse all cookies that try to access your computer. The only disadvantage of this option is that you will no longer be recognised automatically on your favourite online. You need to be careful, though, because categorically blocking certain cookies may mean that you are no longer able to shop online
Set your browser's alert system: you simply need to configure your browser to warn you each time a cookie is sent, letting you decide whether to allow the cookie or not. The only disadvantage of this solution is that you will spend more time refusing or accepting cookies than actually surfing the web
Use specialist software: you can download software that protects you against cookies. These software programmes, can be configured to let you change the content of the cookies that apply to you. These programmes, some of which are free, can be downloaded on the Internet